New Garden Arches and Bird House
One of my plans this year is to add more structures for my vining plants and garden decor.  Last month, I purchased 2 garden arches that I will be installing and I also received a Bird House that is a perfect addition to the Orchard.  For my other current favorites, click here.
I was looking for good quality arches that I could install myself.  I spent hours on Amazon looking for the right material, style, and price range with not much luck.  So I went online and found 'a Garden Place'.
First, I want to say that Diana Hall with customer service was a great help when I had a few questions on this product.  Second, I received my arches WAY sooner than I expected, considering that shipping was FREE and the boxes were quite large.
One of my favorite characteristics is the design on the sides.  I wanted to have multiple areas to tie vines to and this was perfect.  I also love the height – considering that I was going to loose 2′ of it by placing them inside the raised beds.
Product description:
This steel lattice arch has a curved top, is lighter in weight and can be easily installed or moved with included ground states.
Solid Steel – Powder Coated Black
7 Ft High x 5 Ft Wide
22 Inches Deep
Approx. Wt. 49lbs
Easy No Tool Assembly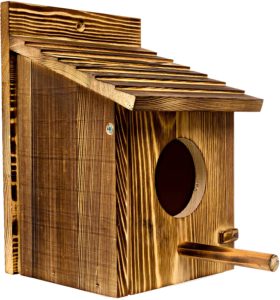 I was recently contacted by Macgyver Ng with Emerging Green to try their new Bird House and I must say, I love it.  It is small and compact with no assembly required.   Check it out here. 
I had been looking for a Bird House because currently, birds have been nesting inside my restrooms exhaust tubing.  In Spring and Summer, you can hear their chirping from inside our bedrooms – which I don't mind except when I'm sleeping.  We will replace the tubing cover they damaged to get in and in the meantime, my plan is to try to relocate them where we can see them. 
Their new location will give them water, they will be further away from my vegetable garden, and we can start learning more about our local birds.  I believe they will love being close to our water fountain and we will love to see them across our living room windows.  
Product Description:
Well-constructed, made of reforested pine wood. You can attach or hang it to t-posts, 3/4″ conduit or tree. The perch is detachable!
Easy opening, at the front of the bird house makes cleaning a breeze.
2.36 inch hole makes it ideal for various bird species including bluebirds, tree swallows, wren, finch, chickadee and etc.
Weathered stain brings a rustic feel to your birding experience.
Fully Assembled, no other hardware required. Measurement of bird nest box: 8.7 (H) x 5.9 (L) x 5.9 (W) inch